Through pandemic and pivots, the North Texas tech scene continues to emerge as a growing hub of startup activity, with the year seeing large later-stage funding rounds, exits, IPOs and even the coronation of a new unicorn.
However, as we head into a new year, it's the up-and-coming generation of startups that we're looking at for our annual Startups to Watch feature. With some hot off a seed or Series A funding and others bootstrapping or still stealthily plugging away, this list focuses on the companies who you may not have heard of yet but are likely to see in headline in 2021.
While the uncertainty caused by the crisis has shown the future can be a little unpredictable, over the year NTX Inno listened to accelerators, VCs and founders to see who they have been eyeing. And along the way, we've been able to spot some rising stars the go on to successfully exit or find major investments.
For example, last year we had Kanarys and Zirtue, both of which were accepted into the inaugural cohort for the Google for Startups Accelerator for Black Founders and later went on to secure funding through the recently launched Google for Startups Black Founders Fund. Both were also voted Blazer winners at NTX Inno's 2020 Inno on Fire awards. We also had Kanna, which landed a $500,000 pre-seed round and has helped put more than 750 people to work through its cannabis-focused gig work platform.
So, let's cut to the chase and shine a spotlight on the North Texas startups that could likely be seeing a lot of that spotlight next year. Here's NTX Inno's 21 Startups to Watch.
And as a bonus, we also caught up with five of the startups from last year's list to see how they fared.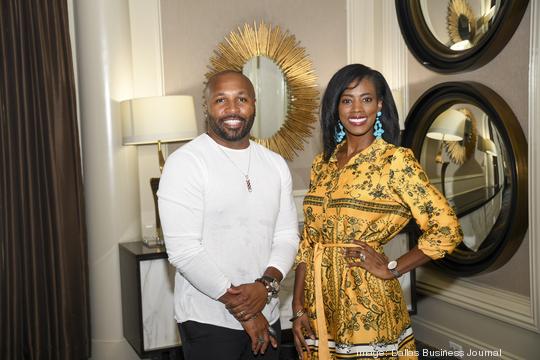 ShearShare co-founders Tye and Courtney Caldwell
Need a trim? It's not too hard to find one since the McKinney-based marketplace for barbers and salon stylists to rent chairs in an existing space has added sports in more than 600 cities since it launched in 2017. This year, the startup got a major funding boost. First, through the Google for Startups Black Founders Fund. Then followed by an oversubscribed $2.3 million seed round in October. And as the company has seen a 157 percent increase in users of the past few months, ShearShare is going further than many in the gig work industry, offering insurance to its users to protect them during an accident. ShearShare was also named a Blazer winner at NTX Inno's 2020 Inno on Fire Awards.
FULL List of "The 21 North Texas Startups to Watch in 2021" by Kevin Cummings - NTX Inno Staff Writer