Read original article HERE
Having a strong and engaged Instagram following could mean a plethora of opportunities for a Makeup Artist.
Instagram is a very visual-based social media which makes it a perfect platform for MUAs to show off their skills and personal style to attract new clients. It is your 'Live Portfolio' if we may say so.
The Makeup niche on Instagram is huge, it's almost becoming an agency for creative professionals in its own way. With that in mind, you need to have a cohesive strategy for it, not just randomly updating it with the all the new images you have of your makeup looks but take things step by step.
It's said that a picture is worth a thousand words—but in the world of social media, it turns out the number might be much higher than that.
How to build a following from scratch as a Makeup Artist on Instagram?
#1 Develop a unique style
"What do you do" ?
A new visitor should be able to figure out within the first 6 seconds, WITHOUT reading your bio. If they can't, and you're all over the place, they'll leave.
So, rule no 1 – Keep your personal account separate from your professional account.
Choose your Style and Theme
Do you want more bridal, editorial, commercial or SFX work? Don't post an image of every makeup look you do, think longterm. Think on:

How do you want your profile to look like ?

What is the style you want to be associated with?

What type of clients do you want to attract?


Imagine your perfect customer and post images you think that perfect customer would love.
Be Different : Be YOU : Express yourself
Because Instagram is huge for beauty, fashion and all things visual, it can be hard to get attention. There is no need to copy trends, express yourself.. You are an Artist, after all. People will love and follow you because of your originality.
#2: Post Instagram-friendly images
Your Instagram feed is only as good as your photographs, so starting with high-quality photos makes your Instagram marketing more effective.
Shoot Vertically : This way your image will take more space in user's feed and it is likely to be noticed.
Collaborate

with photographers and get professional images. Read

here

how to do that.




Hashtags for MUA
The hashtags you use will get you discovered or drown you out in the noise.
If you don't know about proper hashtags beyond: 'style', 'beautiful', 'mua', 'motd' and 'pretty', look through other MUA's accounts and see the hashtags they use. Click on those hashtags and see how many times people have used it. If it is over 500 k your images will likely get lost in a few minutes.
Experiment with different hashtags until you find the ones that work, write them in the notes on your mobile and simply copy every time you post an image. Besides, you can use an app like Hashtagfy to get ideas for new hashtags. Here is a solid checklist of different hashtags you can use.
Descriptive – what's in your photo
Category – your industry/niche
Expertise – your sweet spot in your niche
Brands – tag popular brands in your niche for a chance to be featured (Tag

#CossetMoi, we would love to see your work!)
Community – your community/micro-niche
Location – where you are
Tip: Always Geotag your location on Instagram to engage with the local audience.
#3 Insta Stories
Instagram Stories let you give your fans a behind-the-scenes look at how you run your business, and what a down-to-earth moment in your life looks like. Behind-the-scenes, how you structure your day, your makeup station, makeup kit, product reviews etc. All these give people a look into your business and gives life to still images on your profile.
Schedule more Insta stories in your day.
#4 Leverage your network
Instagram is above a social media platform so it is important to engage with people and start conversations.
Comment on other MUA's profiles
Know this – Likes are measured, but a nice comment is remembered. Anyone can like an image, but a comment starts a conversation and people will more than likely check out your profile. Find something nice to say and leave a comment on the pics you genuinely like.
Reply to comments
Engage with the people who have commented on your pictures, you may meet your new Insta friends. We are all busy with work but try to set some time aside to social and approachable and use every opportunity to connect with people who like your work. Maybe you'll connect with Pat McGrath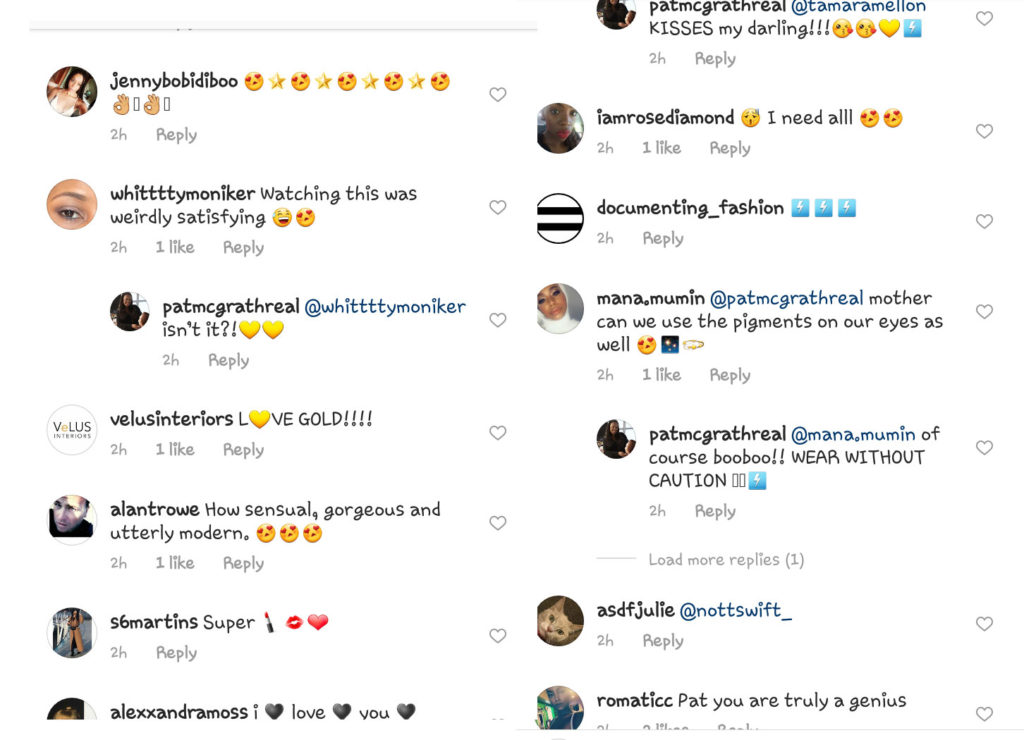 Do this consistently, every day and you'll see good things happening in a few months.
#5 Create your Instagram strategy
Start implementing tips from above right now and create a killer Insta strategy for this year.
Target your perfect customer: Is it an editorial magazine, bride to be, who?
Competitor research: Check out your competitors' social media profiles to see what's already working for them.
Content plan:

This includes what content to post, when to post it, and also how to boost engagement. Organize giveaways, run holiday campaigns, shoot a tutorial, post your inspiration… Whatever fits your style, just be sure to write it down.
"If you fail to plan, you are planning to fail."
In the light of Instagram as the new powerhouse for promoting your work, it is clear that it can bring you a lot of benefits, from new clients to opportunities to collaborate with brands. With a smart strategy and consistency in implementing it, you can position yourself as one of the sought after influencers.