Are we ready to reopen our businesses? With some states starting to reopen small businesses in phases (i.e., Georgia), how do you relax restrictions on something you can't control? Listen to ShearShare CEO Dr. Tye Caldwell share his thoughts on how to proceed with great caution and what he implemented in his own salon before the stay-at-home order went into effect.
CARE STRATEGY
C = Control the Chaos
Operate by appointment only, no walk-ins
Be flexible with work schedules and your hours of operation to reduce the total number of people in the salon or shop at one time
Service one client per stylist at a time
Have next-in-line clients wait in their car
Have each client read and sign a waiver prior to start of service:

Have you had a cough?
Have you had a fever?
Have you been around anyone exhibiting these symptoms within the past 14 days?
Are you living with anyone who is sick or quarantined?
If I start to show symptoms for COVID-19 within 7 days, I will contact all parties, including but not limited to my stylist, the salon or shop owner, salon/shop manager, etc.

Maintain social distancing at all times (unless stylist is servicing client). Consider making 6' distance markers on the floor with painter's tape or stickers
Max 6-8 in the salon or barbershop at a 6' feet apart minimum
Require clients to wear N-95 (or comparable) face masks during the duration of their appointment
Upon entering the salon or barbershop, have clients place keys, phone and credit card into a sealable plastic bag. Return these during checkout
Institute contactless pay (EX: if paying by credit card, client can read the numbers off for stylist to enter)
A = Create the Ambiance
Thoroughly clean and disinfect the salon or barbershop prior to reopening. Disinfect all surfaces, tools, and linens, even if they were cleaned before you closed
Post hand sanitizer at the front door for client use before clients enter
Clean and wipe all door handles and other surfaces that are regularly touched by clients and stylists with disinfectant wipes
Make hand sanitizer available at each station
Post signs reminding clients and stylists not to touch their face, eyes, mouth
Remove magazines, newspapers, service menus, and paper fliers
Disinfect all surfaces, tools, products, and linens in between each client. Discard and replace products that have not been stored in a closed container
Consider purchasing an air filtration system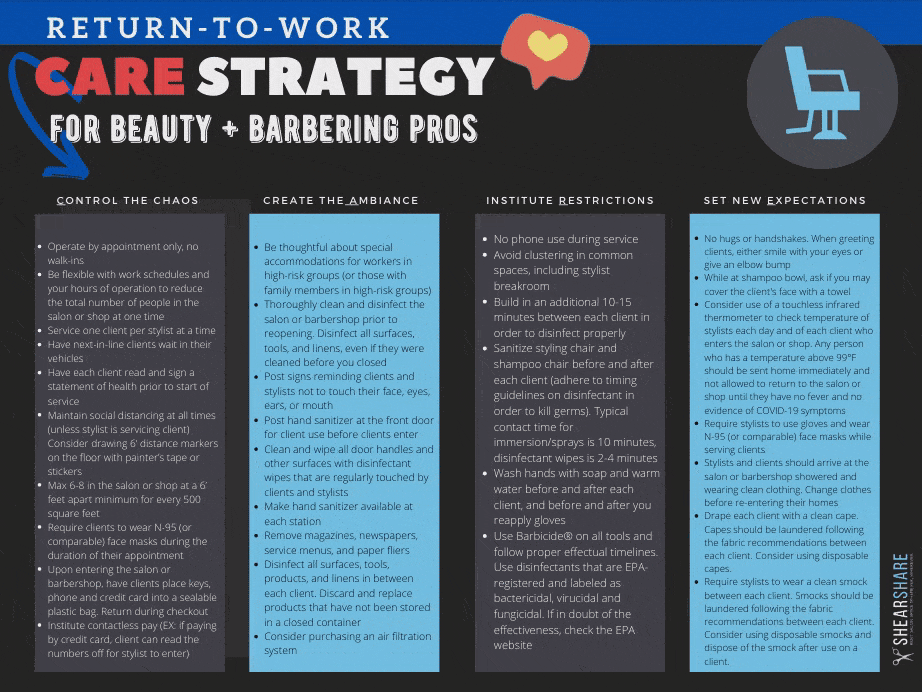 R = Institute Restrictions
No phone use during service
Avoid clustering in common spaces, including the stylist breakroom
Build in an additional 10-15 minutes between each client in order to disinfect properly
Sanitize styling chair and shampoo chair before and after each client (adhere to timing guidelines on disinfectant in order to kill germs). Typical contact time for immersion/sprays is 10 minutes, disinfectant wipes is 2-4 minutes
Wash hands with soap and warm water before and after each client, and before and after you reapply gloves
Use Barbicide® on all tools and follow proper effectual timelines. Use disinfectants that are EPA-registered and labeled as bactericidal, virucidal and fungicidal. If in doubt of the effectiveness, check the EPA website.
E = Set Expectations for a "New Normal"
No hugs or handshakes. When greeting clients, either smile with your eyes or give an elbow bump
While at shampoo bowl, ask if you may cover the client's face with a towel
Consider use of a touchless infrared thermometer to check temperature of stylists each day and of each client who enters the salon or shop. Any person who has a temperature above 99°F should be sent home immediately and not allowed to return to the salon or shop until they have no fever and no evidence of COVID-19 symptoms
Require stylists to use gloves and wear N-95 (or comparable) face masks while serving clients
Stylists and clients should arrive at the salon or barbershop showered and wearing clean clothing. Change clothes before re-entering their homes
Drape each client with a clean cape. Capes should be laundered following the fabric recommendations between each client. Consider using disposable capes.
Require stylists to wear a clean smock between each client. Smocks should be laundered following the fabric recommendations between each client. Consider using disposable smocks and dispose of the smock after use on a client.
We are here to help with advice and counsel on how to approach these issues thoughtfully and reasonably; this guide from the Occupational Safety and Health Administration will be helpful. On behalf of the entire ShearShare team, I hope these guidelines help us all reopen our businesses with incredible CARE.